After completing the development of your world in a certain era the server will open a new task for evolving. The evolution requires the player to complete the entire contents of a certain era in order to be able to research the specific evolution task and upgrade his Empire to the new era.
Each new era has new buildings and appearance, as well as more advanced technology and military skills.
In total, the game has four (4) eras: Dark Ages, Feudal Times, Castle Age, and Imperial Times. Each military scene is completely different.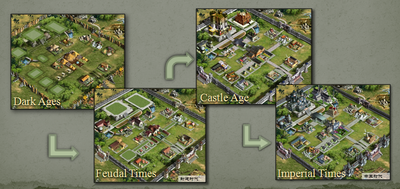 Ad blocker interference detected!
Wikia is a free-to-use site that makes money from advertising. We have a modified experience for viewers using ad blockers

Wikia is not accessible if you've made further modifications. Remove the custom ad blocker rule(s) and the page will load as expected.