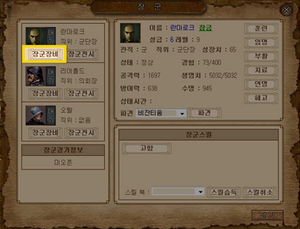 By clicking on the Equipment button or clicking on GENERAL EQUIP button on each General's window, players can enter into General window.
Once clicking on the GENERAL EQUIP button, players can enter into Inventory window that displays all items in possession. In this window, players can also USE / Craft / Repair / Dissolve items in the inventory.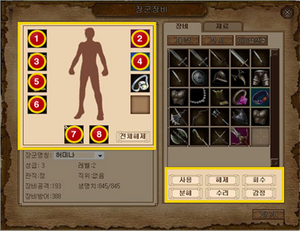 1. Head Gear Slot
2. Necklace Slot
3. Body Armor Slot
4. Ring Slot
5. Cape Slot
6. Grieve Slot
7. Weapon Slot [Weapons are divided into One-handed and Two-handed weapons]
8. Shield Slot [In order to use a shield, this general must equip One-handed weapon]
Use Item [Players can use an item for a general]
Unarm Item [Players can take off a worn item]
Sell item [Players can sell a worn item for DENA]
Dissolve Item [Players can dissolve an item for Dena or materials]
Repair Item [Players can repair item]
Appraise Item [Players can appraise an unidentified item to imbue options to the item]

Once invasion to a NPC territory is successful, players can collect materials that can be used for crafting General's equipment.
To start crafting, player shall click on "Craft" button in Equip window as shown.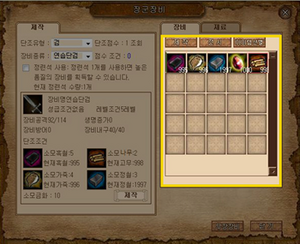 CRAFT : Crafting General's equipment.
Exhibition : Will exhibit crafted equipment to other players.
SORT : This will sort out items and equipment that are currently in possession.
Equipment Crafitng
Materials required for crafting equipments can be obtained from the "Material Treasure Chest" through NPC hunting. [PVE] Different types of craft materials can be randomly obtained. [QTY of 1 to maximum 5]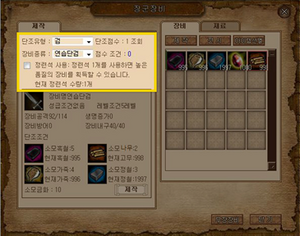 • Item Type : Players can select the type of item to be crafted.
• Item Name : Players can select the item to be crafted from previously selected item type.
• Point : This point is required to craft item. It is required to have enough required points for crafting item.
• Refinement Stone : Once using refinement stone, there is a random chance that crafted item will have option. Refinement stone can be randomly obtained from the battles against NPC.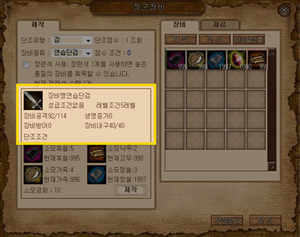 • Item Name :This is the name of the item
• Minimum Grade : This is the required Grade to equip this item.
• Minimum Level : This is the required level to equip this item.
• Attack : This is the attack power of the item.
• Defense : This is the defense power of the item.
• HP Bonus : This is the bonus HP option of the item.
• Durability : This is the remaining durability of the item.
• Item crafting requirement : This window will indicate the amount of resources and Dena required for crafting.
• Once players have met the material requirement, they can start crafting by clicking "Craft" button.