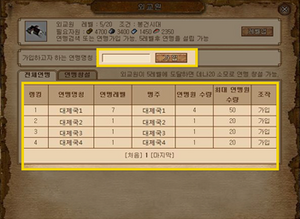 Alliance Joining Players can join alliances from the Embassy. By sending an approval request to the desired alliance through this alliance interface, he/she can join the alliance upon approval.

Alliance Creation
Once a player's Embassy upgrades to level 5 or higher, the player can create an alliance with 20 Dena fee. When creating an alliance, the player should input Alliance name, password, and introduction and then create the alliance.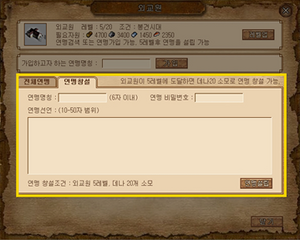 Alliance Information

By clicking the Alliance button on left side of the game interface, players can review more details about selected alliance. In this alliance information window, players can review information on "Alliance, member, Relations, Alliance War, Donation, Alliance leveling, and member recommendation tabs.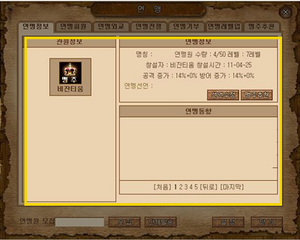 Alliance Relation [Diplomacy]
In the Alliance Relation Tab, alliance leaders can establish alliances or declare hostility (Enemy) among alliances. Click on Edit alliance or enemy button and input the name of the desired alliance. Upon approval of the other alliance leader, now two alliances can form inter-alliance relationship.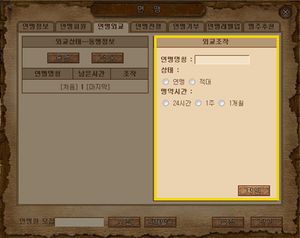 Alliance Leveling
In order to upgrade alliance level, there are requirements to be met. Once requirements are met, alliance leader may level up the alliance. In addition, in this interface, alliance leader may research on control post and Armament Depot technologies.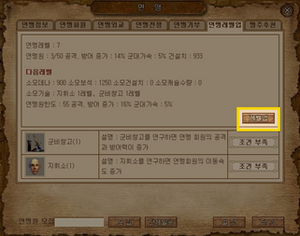 Alliance Officer
In the member tab, alliance leader may appoint or change Alliance officers. Leader can change all members while vice leader can only change status of alliance members. There are different officer slots such as Alliance leader, vice leader, General, Minister, Diplomat, and alliance member.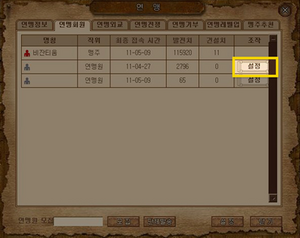 Alliance Donation / Development
In the alliance donation tab, alliance members may donate Dena or Gem which are used for the development and leveling of the alliance. As Alliance level grows, members can receive more benefits. Thus, it is very essential for all alliance members to cooperate for the development of the alliance.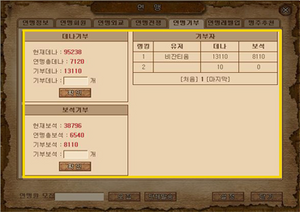 Gold Donation This is the total amount of Gold that has been donated by alliance members. To upgrade the alliance level, it requires significant amount of gold.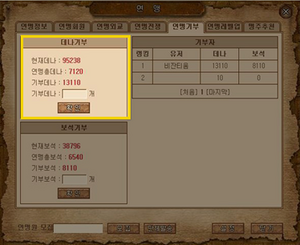 Gem Donation For the development of alliance, it requires significant amount of gems. This is the total amount of Gems that has been donated by alliance members. Gems are used for researching alliance technologies and other alliance development activities.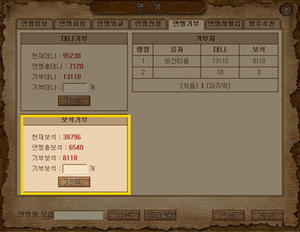 Alliance Development Score
Total alliance development score is based on sum of all alliance members' development score. As each member's development score gets higher, it will affect Alliance's development score as well.